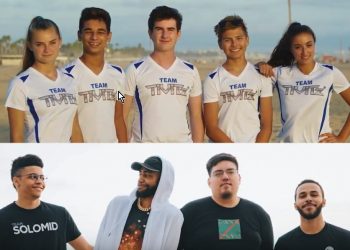 Coming Soon: TiViTz Dollar Math Club
A youth eSports club, where kids can earn currency and
win prizes when they challenge opponents from around
the world, play in tournaments (PVP or Battle Royale), join competitive TiViTz teams, or participate through games and activities. Earn eSports and Fortnite prizes!
What is TiViTz?
TiViTz is a series of fun, engaging online math and strategy games that stimulate interest in STEM (Science, Technology, Engineering and Math). 
For children grades K-9, TiViTz combines board game strategy with math concepts covered in school. Play against the computer or compete online against friends around the world! Unlock different themes and avatars for Outdoor Adventure, Baseball, Mars Landing and Magic Sky Island. Upgrade TiViTz play to include new themes and avatars for Pirate Hideout, Medieval Castle, Atlantida Lost and Soccer.
With immersive themes and sounds, 9 skill levels, and state-of-the-art 3-D graphics, TiViTz improves critical thinking and computational skills by incentivizing gameplay through equation solving. TiViTz combines the fun of checkers and chess with the need to correctly strategize and solve math problems to ensure victory.
See What All the Buzz is About!

I am excited to see so many students engaged in playing TiViTz to improve their math critical thinking skills! Math will be important to those who pursue STEM careers, but it will also be important to students, no matter what their career, in the information age of the 21st century.

The TiViTz games motivate students to engage in their math studies. They love the competition and math becomes relevant in their world. This gives teachers the opportunity to teach math in a situation where students actually need the lessons for themselves in order to score and to prove they won the game of TiViTz!"

One of the biggest challenges I have each year with teaching mathematics is getting the kids to be excited, to want to do something other than play around. The first thing I thought of was bringing in TiViTz.

They love to play they love the competition and I like that they just think they are playing a game, but they're really learning.

TiViTz provides students in all grade levels with a hands-on STEM activity that's not only fun and engaging, but is also customized to their level of ability and promotes both critical thinking and math skills.

When I first heard of TiViTz, I thought it was the best thing around. It's a fun game. It teaches you about strategy and about the math. It's great because it does get kids interested. I feel like I'm quicker at figuring out (my math) now.

I think TiViTz is more of a fun way to learn math. There (are) different grade levels for you to pick and choose from. I just think it's more fun… having a game in front of you and playing with your friends, than it is sitting and doing bookwork. Bookwork is okay, but TiViTz is more fun.

TiViTz Tuesdays is a golden opportunity for us to help endorse mathematics and for McDonald's to be a part of it by opening up our lobbies by letting our kids engage here. It was a no-brainer.

I'd like to make it to county competition and win!

"TiViTz has been a great tool for our teachers to engage our students. They play during class, learning new strategies, they play after school in the TiViTz Club and they even come early to play before the first bell!"

You learn a lot of math. It's fun!

The TiViTz Tournament meant a lot to me, even though we didn't win, it was really fun!

After TiViTz, I'm getting A's and A's and A's. That's all I can say. A's.
I did TiViTz on the sixth-grade level and I won! I just wanted to play a lot.