SAS Games, Inc., today announced the formal launch of its redesigned online TiViTz game and app. Using leading-edge gaming technology, immersive worlds and sounds, theme-specific avatars and improved AI, the fully-revamped experience uses gamification to improve children's math and critical thinking skills in a fun, engaging environment.
For children grades K-8, the redesigned game is available on desktop, and as a free download for iOS and Android devices through the App Store and Google Play.
"We had long looked for ways to translate the excitement of the board game version of TiViTz into a digital environment," says SAS Games, Inc., CEO Siobhan Mullen. "With the development of new technologies and improved graphics capabilities on desktop and mobile devices, we saw an opportunity to bring a true-to-life gaming experience to users around the world, and to set those experiences against beautifully-rendered backdrops."
The free version of the game features four unlockable worlds, including Outdoor Adventure, Baseball Park, Mars Landing, and Magic Sky Island—along with world-specific versions of the iconic blue and red TiViT avatars. Additional themes, features, and customizations will be available in a purchasable premium upgrade coming this spring.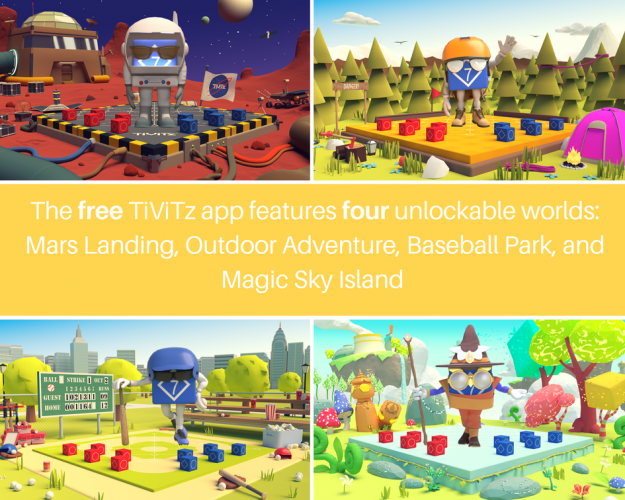 The game may be played in single-player, or online against users around the world.
In keeping with the SAS Games mission to spark interest in STEM fields among young people and eliminate the math anxieties experienced by millions of students, TiViTz Co-Founder and SAS Games, Inc., President Steve Scully believes the redesigned game will serve two primary functions.
"First, it's a game, and it's really fun to play. Children respond well to competitive environments in the digital space, and their success in TiViTz is determined by how well they can perform mathematical operations, so there's incentive to pay attention in class, or independently learn how to perform certain functions in order to win.
"Second, while it is a game, it is also a crucial component to demystifying—and removing the insecurities most children feel toward—math. The less children fear math, the more math courses they'll take as they progress through school, and the more STEM-ready young professionals we'll have globally to meet current and future workforce needs."