FOR IMMEDIATE RELEASE
CONTACT: William Whitaker
wwhitaker@cvic.com
520.419.5384
Among several winners across public sector divisions, TiViTz has been awarded the 2017 Education Mobility Partner of the Year
Seattle, WA.- TiViTz, a math and strategy game for students, has been named the 2017 Microsoft U.S. Public Sector Education Mobility Partner of the Year. The company was chosen from more than 100 organizations across the public sector divisions for demonstrating excellence in innovation and implementation of education technology.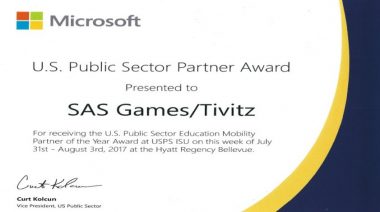 Siobhan Mullen, CEO of SAS Games, Inc., the parent company of TiViTz said, "We are honored to be recognized by Microsoft as their Education Mobility Partner of the Year. By working together, we have been able to implement gamification programs that dramatically improved math competency in classrooms. We look forward to what this incredibly rewarding partnership will bring to STEM education in the future."
Mullen believes the success of TiViTz indicates that futures of gamification and STEM education are deeply connected. "When students engage in TiViTz, the competitive nature of the challenges and tournaments motivates them to learn the math to win the game," Mullen said. "Programs such as our TiViTz Microsoft Office 365 Challenge are a fun way to motivate kids and studies have shown that TiViTz can improve math scores by three letter grades."
The Education Mobility award was presented by Curt Kolcun, vice president, Microsoft U.S. Public Sector, at the U.S. Public Sector Kickoff and Industry Solution University (ISU) event in Seattle.
"We are excited to recognize TiViTz as a U.S. Public Sector Education Partner of the Year," said Margo Day, vice president of U.S. Education at Microsoft. "TiViTz has shown how the combination of gamification and Microsoft-based solutions can power instructional technology in schools, and Microsoft is proud to call TiViTz a partner in our shared pursuit of improving STEM education."
About TiViTz
TiViTz motivates kids by pairing gaming with STEM. On mobile devices, at home, and in classrooms, the award-winning TiViTz math and strategy game sharpens math skills, encourages critical thinking, and is fun at the same time. Learn more at TiViTz.com.